Birmingham City were still searching for their first win under manager Gianfranco Zola after only managing a 1-1 draw with Blackburn Rovers during the weekend.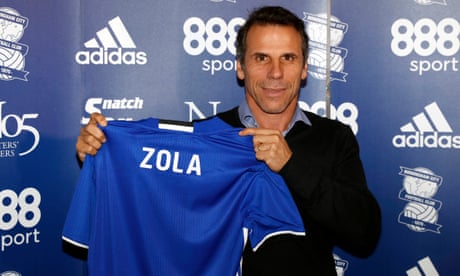 Birmingham could not have made a better start to the game after taking the lead in the 3rd minute through a penalty fromJutkiewicz. However, they also conceded in the worst possible fashion – just before half-time. Danny Graham came up with the equaliser after Birmingham had a couple of great chances to increase their lead. David Cotterill, especially, had a great opportunity to put the team 2-0 ahead in the 25th minute.
Failure to take the chances proved to be the decisive factor as Birmingham remain winless since the 2-1 victory over Ipswich Town back in December. Zola has now been in charge of eight matches and the honeymoon factor certainly seems to be over at the moment. The former Chelsea star has not had a great time in management. Yet, he had the confidence to take over at Birmingham – his first managerial job since an extended spell with Watford.

He had left Watford in 2013 and went on to manage smaller clubs like Cagliari Calcio and Al-Arabi. Birmingham were hoping to make a push for the play-off places after the appointment of Zola, but the club are already eight points below Sheffield Wednesday, who occupy the final sixth spot.
"We have to be able to convert the volume of good play into goals.Today we had a great chance, we started well. We were on the front foot, we scored and we another another great chance.Then we started making those mistakes, you can't afford that.I think we are getting there. The pity is I will have to wait another week. That disappoints me.But the players and their determination – and the coaches', everybody, is getting bigger and it will produce results," said Zola.